Boss Day Messages 2023 - 30+ Quotes for Boss's Day you Can Use
Aug 7, 2023
Boss's Day, which falls on the 16th of October each year, is a special occasion dedicated to honouring and appreciating the hard work, guidance, and leadership of bosses and managers. While it may not be as widely celebrated as other holidays, Boss's Day presents a wonderful chance to strengthen professional relationships and foster a positive work environment.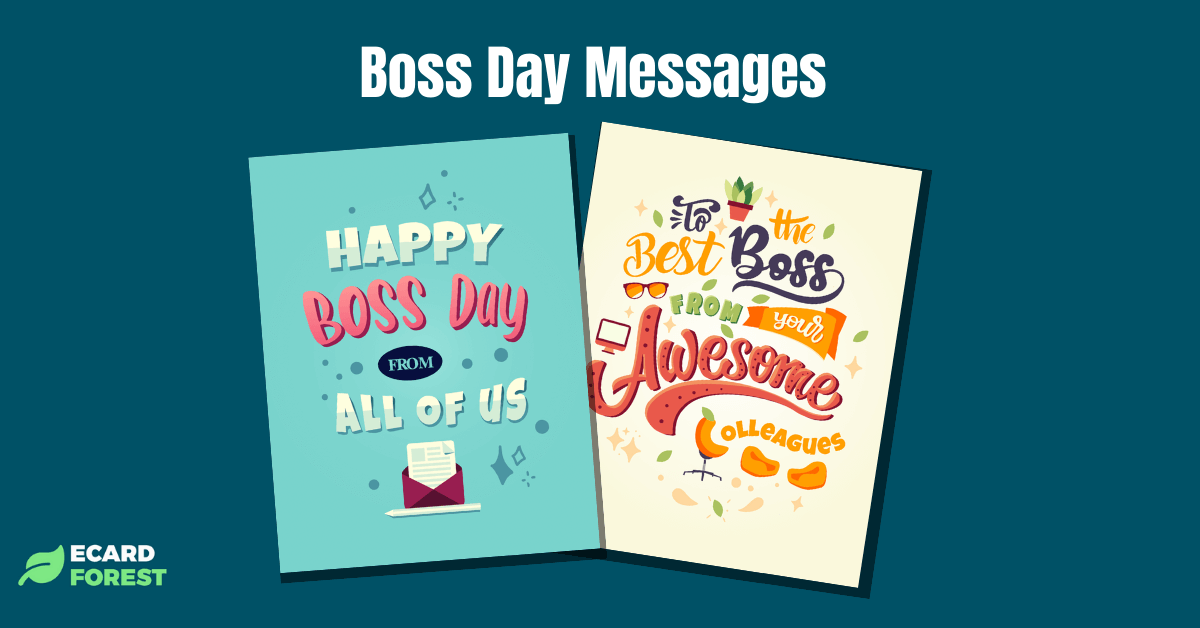 How to celebrate Boss's Day in 2023?
Here are some creative ways to show your appreciation to your boss:
Personalized greeting card: Send a custom-made greeting card to express your gratitude and respect. Tip: Use one of our quotes for boss's day below.
Office decorations: Decorate your workspace with balloons, streamers, and a small gift to surprise your boss.
Team lunch or coffee break: Organize a lunch outing or coffee break where the team can gather and celebrate together.
Gifts of appreciation: Consider giving a thoughtful gift, such as a potted plant, a desk accessory, or a book related to their interests.
Group photo: Capture the moment with a group photo and frame it as a memorable keepsake.
💡 Looking for general work appreciation messages instead?
Check out our list of work appreciation quotes.
As Boss's Day approaches, take the time to choose a message that resonates with your sentiments and reflects your relationship with your boss. A simple heartfelt message or a touch of humour can make all the difference in showing your appreciation. Remember, it's the thought and effort that count the most!
The best Boss Day messages 2023
"To a phenomenal leader who inspires us every day, Happy Boss's Day!"
"Your guidance propels us to excellence. Thank you for being an exceptional boss!"
"Your unwavering support and mentorship have shaped my career. Happy Boss's Day!"
"Under your leadership, challenges become opportunities. Cheers to an incredible boss!"
"A boss like no other, your vision and dedication are truly inspiring. Happy Boss's Day!"
"Your leadership style empowers and uplifts. Wishing you a fantastic Boss's Day!"
"Working with you is a privilege. Your wisdom and guidance are invaluable. Happy Boss's Day!"
"Thank you for steering us towards success with your exceptional leadership. Happy Boss's Day!"
"Your dedication to both the team and the company is truly commendable. Happy Boss's Day!"
"Raising a toast to the best boss ever. Your support means the world to us. Cheers!"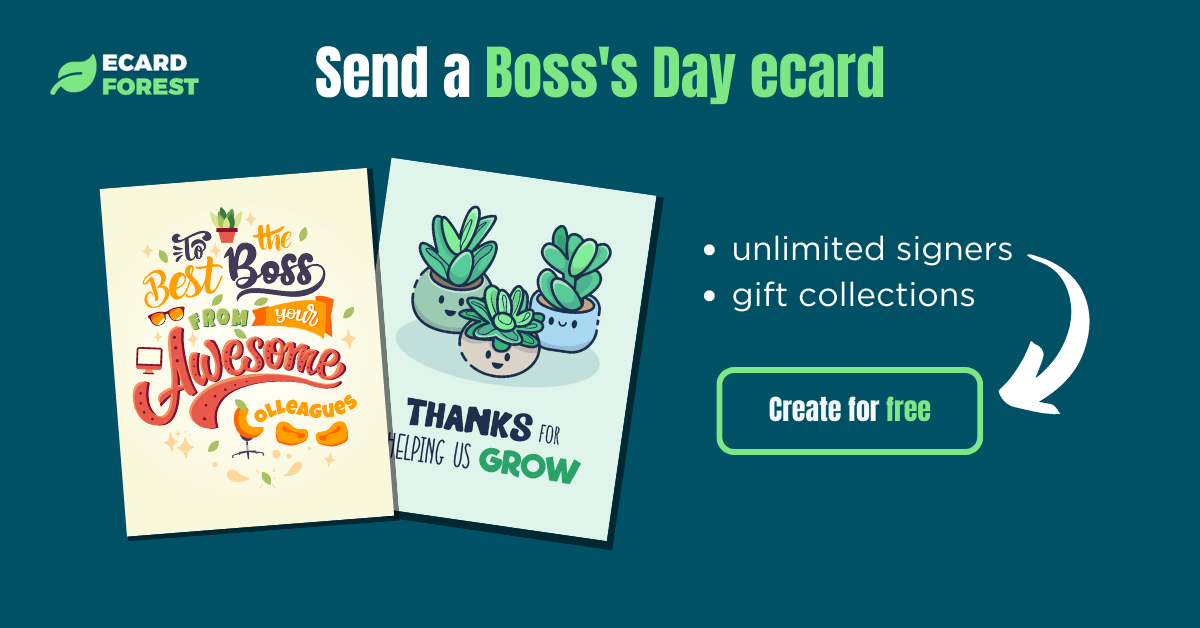 Funny Boss's Day messages
"Boss, you make Mondays bearable and Fridays legendary! Happy Boss's Day!"
"Your ability to juggle tasks is like a magician's act. You truly are our office wizard!"
"They say 'Choose a job you love,' but having a boss like you is a close second!"
"Thanks for not micromanaging us… at least not too much! Happy Boss's Day!"
"You've mastered the art of boss-itude. We're taking notes… not that we have a choice!"
"You make the office rumour mill look like child's play. Happy Boss's Day to the ultimate grapevine guru!"
"Boss, your jokes are the highlight of our staff meetings. Keep the laughter coming!"
"You've turned us into a well-oiled machine, and sometimes we even run on time!"
"Your coffee addiction rivals our workload. Here's to a boss who runs on caffeine and success!"
"Thanks for pretending not to notice our Friday afternoon productivity slump. Happy Boss's Day!"
Heartfelt happy Boss Day messages
"Your guidance is a beacon that lights our path. Happy Boss's Day, with heartfelt gratitude."
"You've not just shaped our careers, but our lives too. Wishing you a day as exceptional as you are."
"The warmth of your leadership has created a family within our team. Happy Boss's Day!"
"Under your mentorship, challenges become stepping stones. Thank you for your unwavering support."
"Boss, your belief in us is a driving force. Here's to a day that's as incredible as you've made ours."
"In a world of bosses, you stand out as a true leader and friend. Happy Boss's Day!"
"Your dedication and sincerity are an inspiration to us all. Have a truly wonderful Boss's Day!"
"Your faith in our abilities has propelled us to new heights. Wishing you a day filled with appreciation."
"On this special day, we celebrate not just a boss, but a mentor and guide. Happy Boss's Day!"
"Your leadership is a gift that keeps on giving. May your Boss's Day be as special as you make ours!"
⭐ Send Boss Day messages with a digital Boss Day card

Say Happy Boss's Day with a digital Boss Day card this year. Let everyone at the office add their appreciation messages in one place.
Organise a thank you gift. Add a digital thank you gift to your card to make your boss feel extra special.