What to Write in a Maternity Leave Card - 35+ Message Ideas
Feb 3, 2023
Maternity leave is a special time for expectant mothers as they prepare to welcome their new bundle of joy. It is also a time for friends and colleagues to send well wishes. Moms to be are usually very busy, so remember to keep your message short, sweet, but most importantly from the heart.
We've put together a couple of maternity leave message ideas to help you out.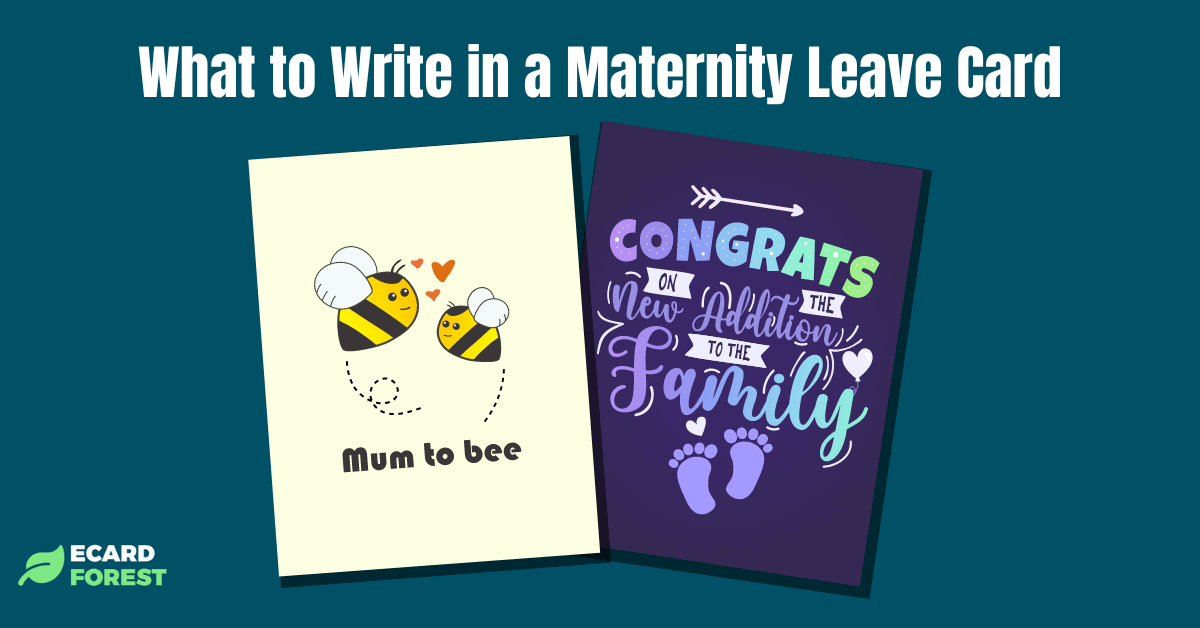 Quick overview:
🍃 General maternity leave wishes
🍃 Maternity leave messages for a colleague
🍃 Simple maternity leave wishes
🍃 Funny ideas to say happy maternity leave
🍃 Pregnancy congratulations messages
💡 Looking for new baby messages instead?
Check out our guide on what to write in a card for a new baby.
Maternity leave wishes
"Wishing you a peaceful and restful maternity leave. Enjoy this special time with your new little one."
"Sending you lots of love and good wishes as you begin your maternity leave. May it be filled with joy and precious memories."
"Wishing you a wonderful maternity leave filled with love, laughter, and lots of snuggles with your new baby."
"Take all the time you need to bond with your little one during your maternity leave. Wishing you a happy and healthy leave."
"Sending you all the best as you start your maternity leave. Enjoy this special time with your new baby."
"Wishing you all the best as you welcome your new bundle of joy."
"Congratulations on your new arrival. Enjoy this special time with your family."
"Wishing you a happy and healthy maternity leave. Can't wait to meet the new addition to your family."
"Sending you lots of love and best wishes during this exciting time."
"Enjoy your time off with your new little one. Can't wait to hear all about it when you're back."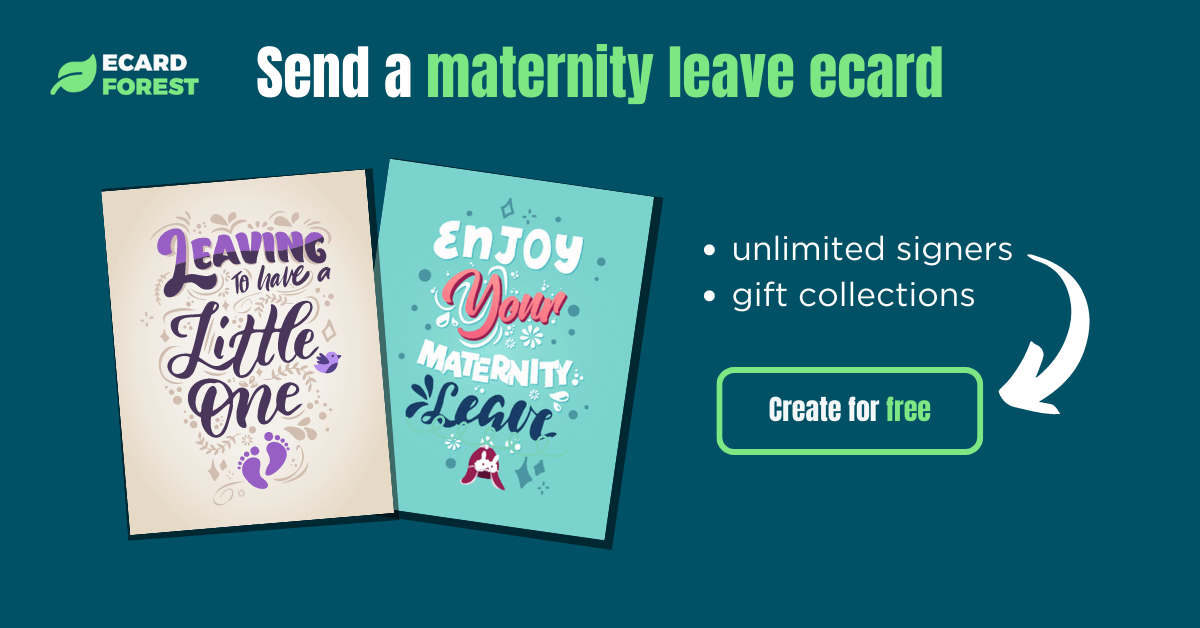 Maternity leave farewell message to colleagues
"Sending you lots of love and good wishes as you begin your maternity leave. We'll miss you but know you'll be back soon with a precious new addition."
"Wishing you all the best during your maternity leave. Enjoy this special time with your little one and know that we'll be thinking of you."
"You'll be missed during your maternity leave, but we're so excited for you and your baby. Wishing you a happy and healthy leave."
"Sending you all the best as you start your maternity leave. Enjoy this special time with your new baby, and we'll see you soon."
"We'll miss you during your maternity leave. Enjoy the family time and the change of responsibilities. Good thing you can delegate also at home!"
Simple maternity leave wishes
"Sending you all my love and best wishes as you begin your maternity leave. Enjoy this special time with your new little one."
"Wishing you a peaceful and restful maternity leave. May it be filled with joy, love, and precious memories with your new baby."
"So excited for you and your growing family! Wishing you a happy and healthy maternity leave."
"Sending you all my love and best wishes as you start your maternity leave. Can't wait to meet your new little one."
"Enjoy this precious time with your family and the new bundle of joy!"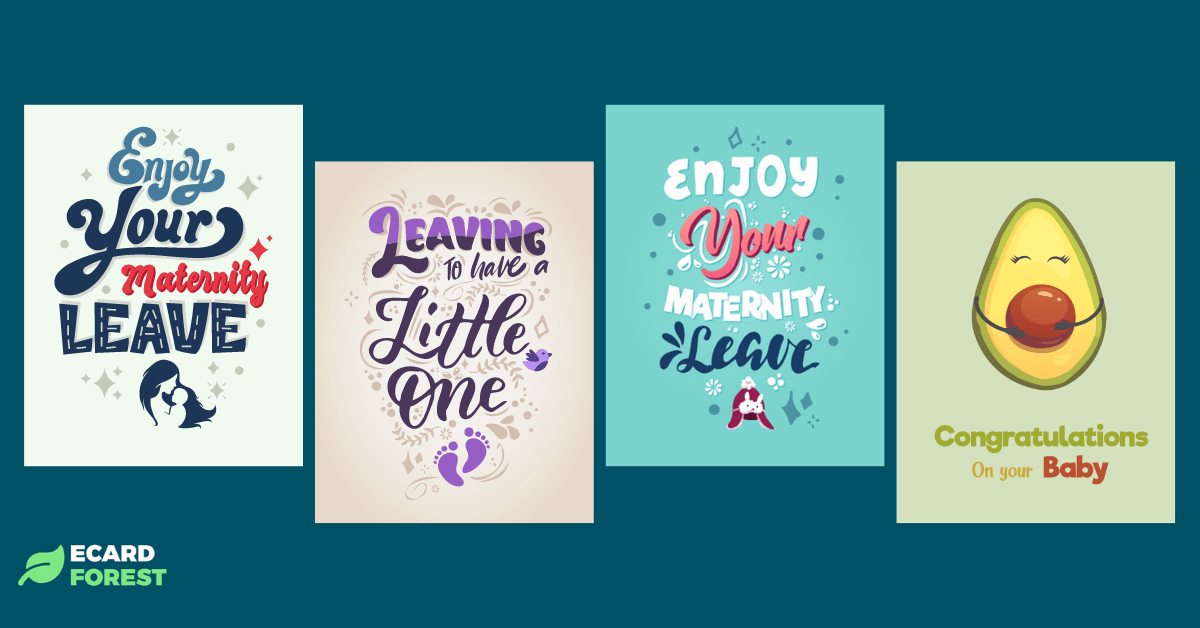 Funny ideas to say happy maternity leave
"Congratulations on your bun in the oven!"
"I'm so excited for you to become a mom, now you'll finally have someone to blame for all the messes in the house."
"Congratulations on your pregnancy! I hope your morning sickness is better than my hangovers."
"I heard being pregnant is like having a permanent food baby. Congrats on the upgrade!"
"Welcome to the mom club! Just remember, sleep is overrated."
"Congratulations on your pregnancy, now you'll never have to wear pants again!"
"I can't wait to see you rocking that mom bun. Congrats on your pregnancy!"
"Looks like you're gonna be a mommy! Just remember, it's not the end of the world, it's just a change of pants."
"Can I count you for the girl's night in one year or is it too early?"
"Now there's going to be a new boss in the house. I wish you all the luck with that!"
Congratulations on pregnancy messages - when the expectant mom just announced it
"Warmest congratulations on your pregnancy! Wishing you all the best as you embark on this exciting journey."
"So excited for you and your growing family! Sending lots of love and positive vibes your way."
"Congratulations on your pregnancy! Wishing you a healthy and happy 9 months."
"So happy for you and your family! Wishing you a smooth pregnancy and a healthy baby."
"What wonderful news! Sending all my love and best wishes for a happy and healthy pregnancy."
⭐ Level up your maternity wishes